Welcome to Pender Harbour and Area Residents Association (PHARA), previously known as Pender Harbour Advisory Council (PHAC), serving the residents and communities on the Sunshine Coast of BC from Middlepoint to Earls Cove/Egmont since 2013
PHARA is a volunteer organization which exists to support the vitality of the communities of Pender Harbour and Egmont areas as excellent places to live, work and play for residents and visitors. The Association provides a structure that allows residents to identify issues of broad community concern and have them effectively addressed.
The Association draws its main funding from a $30.00 membership per person per year. It saw a surge in growth as it moved into its expanded mandate but is looking to include more of the residents in the area. To join please go to our Join Us! section. Members receive regular insider newsletters with updates on the latest activities of the association.
PHARA is involved in the community in many ways, with committees dealing with derelict boats, Dock Management Plan revisions, cleaning local waters of debris, the annual trash bash, beach access signage, community volunteer awards, the installation of No Wake signs in the harbour and much more. We invite community input into other projects we should take on as an association.
---
January/21/2023
Proposed Section 7 Agreement
On January 20, 2023, PHARA sent the following letter to its members, as well as to provincial and federal legislators, and to several media outlets:
RE: Proposed Section 7 agreement between B.C. government and shíshálh Nation
The shíshálh Nation and the Province of British Columbia have begun negotiations on the first joint decision-making agreement to be negotiated under Section 7 of the Declaration on the Rights of Indigenous Peoples Act (Declaration Act).
The agreement, when negotiated, will apply to decisions on dock tenures in the shíshálh swiya (territory/birthplace/world) and builds upon the current model for making shared decisions on dock tenures created in 2018.
The Pender Harbour and Area Residents Association (PHARA) is reaching out to raise awareness of this new joint decision making process (effectively giving the shíshálh Nation a veto on authorizations), which is likely to be expanded to other authorization types in the future (for example forestry, mining, disposition of Crown land and resources, building permits, business licences, land titles and any other land use authorizations).
The following letter, sent to relevant government entities, asks how final decisions will be made, raising questions about the lack of important checks and balances that we expect to be in place for our elected governments, including accountability, transparency, oversight, complaint handling and dispute resolution.
Yours truly
Sean McAllister
Director, PHARA
For inquiries and questions, please contact board@phara.ca
---
December/28/2022
Thank you SCRD
The Pender Harbour and Area Residents Association would like to express its appreciation to the Sunshine Coast Regional District for its generous $4,000 Grant in Aid to support the restoration of our community gardens adjacent to our Community Hall, Triple B's Burger Shack and the Bargain Barn. They have also helped improve the gardens at the entrance to our community at Madeira Park Road and Highway 101. Those funds have helped purchase soil and plants which gardener Terri Johnson has been using to bring our community gardens back to life after a few years of neglect. Thanks also to our Area A Director (and now SCRD Chair) Leonard Lee for helping expedite the grant. The remainder of the funds will be used to continue to revitalize the gardens in the spring of 2023. Please visit the Madeira Park Community Gardens Facebook page for more photos and information.
---
December/20/2022
NOTICE OF ANNUAL GENERAL MEETING

Sunday, January 8, 2023
via ZOOM
The Pender Harbour and Area Residents Association invities all members to attend our Annual General Meeting to be held on Sunday, January 8, at 2 pm via Zoom. This meeting will be for the years 2021 and 2022. Typically, we hold our AGMs after a spring or fall Town Hall, but due to Covid 19, those in-person meetings have not occurred.
At the upcoming AGM, the President and other directors will report on the finances and activities of PHARA followed by the election of directors. We will update members regarding progress on a number of initiatives your association has been working on over the past years:
making efforts to change the Dock Management Plan;
responding to the shíshálh Nation's proposed geographical name changes on the Sunshine Coast;
challenging the Foundation Agreement between the province and the shíshálh Nation;
raising funds for ongoing care of our community gardens;
potentially daylighting the portion of Paq Creek that currently runs in a culvert under the elementary school;
removing derelict boats;
developing a cohesive architectural plan for Madeira Park;
revisiting the potential for incorporation;
making improvements to the SCRD's Katherine Lake trails;
increasing the facilities at the SCRD's Dan Bosch Park; and other initiatives.
We have also made efforts to have the owner clean up the former Garden Bay Pub property and to remove the illegal encampment along Garden Bay Road.
Please email board@phara.ca if you would like to attend. We will send you a Zoom link just prior to the January 8 meeting.
This is a chance to have your voice heard and to share ideas for the future direction of PHARA.
---
Letter addressing name changes
To: Trent Thomas
BC Geographical Names Office
Re: File: 10280-60 (92F/09, 92F/16
92G/12, 92i/04)
December 14, 2022
Dear Mr. Trent Thomas:
The following is our response to the proposed name changes by the shíshálh Nation for 10 geographical features on the shIshálh swiya/Sunshine Coast/Jervis Inlet area.
The Pender Harbour and Area Residents Association (PHARA) recently poled the Pender Harbour/Egmont community, asking them to comment on the 10 proposed geographical place name changes. We communicated through emails to members, an article in the local monthly magazine, the PHARA website and Facebook page. It was overwhelming clear that the community opposes all of the proposed name changes, especially that of Pender Harbour, but many would be okay if both names were used—as long as the current names were not replaced. Only a single respondent supported all of the name changes.
Note that a number of respondents quoted from your policy and procedure guidelines for place name changes: "First priority shall be given to names with long-standing local usage by the general public. Unless there are good reasons to the contrary, this policy should prevail." In keeping with this policy, it is very clear that the current names have been in long-standing local usage for generations by the general public.
We have attached some of the comments we have received. However, three key points were raised over and over: That the current names have been for many generations and should be given priority; That the proposed names are unpronounceable to the vast majority of the general public; that there was some support for using both names, giving priority to the existing names or equal billing, but there was absolutely no support for eliminating the names currently in use.
Here are selection of representative comment (exclusive on the many that simply said absolutely not to the 10 place name changes):
We have owned property own Pender Harbour for fifty years and had friends who lived here thirty years before us—a total of 80 years. The current names have always been in use. There is no significant Aboriginal population in Pender Harbour at the present time. The historical record of habitation is just that—historical. We are strongly opposed to name changes taking into account that the proposed names are unpronounceable.
History is attached to the current names and they are in common use by a large percentage of the population. I do not see what purpose it serves to change them at this time except to cause total confusion, e.g. charts, maps, addresses, pronunciation, etc.
We have owned a home in Pender Harbour for over 20 years and we are completely opposed to the proposed name changes. The existing names have long standing use by the general public. There is no compelling reason to change the names. In addition, the existing names should be given priority as provided in the BC Geographical Names Policy and Procedure. [In addition] alternate aboriginal names are difficult to pronounce and residents will likely not adopt usage.
We have no issue with signs providing the aboriginal names in brackets below the common names, however the commonly used names should remain on all signage and maps and should be given priority and prominence on the signs.
I am…curious to know if the Official Languages of Canada are going to be expanded to include words like "sew?amin" that are spelled phonetically. In English and French "?" is not a letter, it's a punctuation mark. What legislation would have to change for "sew?amin" to become a legal name? English and French don't use phonetic spelling, so why should the First Nations languages use phonetic symbols to spell words. I expect there would more acceptance of many of the proposed name changes by the general public if the proposed names followed a conventional English or French spelling rather than the phonetic spelling that has been imposed on the First Nations by the clergy that were responsible for many of the atrocities to their people. How invested are the First Nations in these phonetic spellings? Perhaps "sew?amin" could become "Sewamin" and we would just have to learn how to pronounce that name.
Enough already. This is ridiculous. Having two names is, in my view, sufficient to identify places and allow the First Nations to claim back their original names for places. However, the consideration of completely changing these names including the charts for all the waters along the coast seems both reckless and costly. Marine safety should be considered first along with all that entails. If someone is in trouble, could they say where they are if the name changed and if they did know, would the Search and Rescue know? It is unlikely that the hundreds of thousands of charts currently being used would be replaced by boaters. Having two completely different sets of names for locations without redundancy would not be a well thought through plan. I am against a complete switch in names.
Please note and register my objection to any and all name changes as noted below, this would require long term confusion, costs and possible navigational safety. While supportive of recognizing Indigenous heritage, a proper name change of all maps, navigational charts, signs and would require excessive coordination, costs, confusion, navigational safety and take resources away from other far more important public issues.
First Nations may have noted these places via language, however, these names, it is well known, were oral and not recorded or written. We would prefer that the names stay as they are currently. There are many things more appropriate on which the Govt should be spending taxpayers $.
We both support the name changes as requested by the Shishalh nation. However, we think that a single name might cause confusion in location and navigation and therefore suggest that both—settler, and indigenous—be used as the official place names.
If the First Nations want to see recognition of the ancestral lands, the name should appear secondary to the names that have been used for the past two hundred years. Unnecessary millions of dollars will be spent to update charts. Maps etc.
The Pender Harbour name has been in use for generations, is well and widely known, and is represented on charts, documents, boating books and tourist references in addition to all of the familiar local use. As a boating and tourism community, Pender Harbour benefits greatly from having a well-known name.
I am against the name change of Pender Harbour. I was born here in the Garden Bay Hospital. I have lived here most of my life as six generations of my family have. The people of Pender Harbour have made it what it is today and it should be up to them if they want the name of Pender Harbour changed.
I feel very strongly that any area associated with navigation charts or with high tourist profile, like Pender Harbour and Jervis Inlet (en route to Chatterbox Falls) should not be changed. In principle, I object to changing any place names to names which are not commonly used or easily pronounced by the vast majority of British Columbians. This action creates resentment and racism as it seems more like appeasement than meaningful reconciliation.
Although these areas may at one time have been the winter home of the shishálh nation, Pender Harbour is now the home of people of many other nationalities and races.
Renaming the area will not restore the shíshálh winter encampment and will erase the history of those who know it as Pender Harbour. The new names are not only meaningless to many of the current population but they are also unpronounceable to most of us.
We cannot rewrite history but we can inform ourselves and respect the history and cultures that now make up Pender Harbour. Changing the names of our harbour and our towns will not promote harmony or empathy for the previous populations.
I am opposed to renaming for the sake of change. I see it as vindictive—not to orient people to places and directions, it is about seeking revenge and not the well being of society. I am particularly surprised by the desire of The Shishalh nation to change the name of Deserted Bay and River. I see those names as important to inform people of the desolation from Smallpox and to change that is to deny the great suffering and toll of life the disease took, on the first nations people.
I think this would be outrageous. Pender Harbour is internationally known yachting and tourism destination with a long and distinguished history. It would be a terrible shame to change the name of such a historic port. A true travesty.
As a resident of Madeira Park I find it hard to believe that local and provincial governments are spending money on area name changes when we have housing, highway and water issues that need to be addressed.
I have no opposition to Indigenous names being introduced as long as the English names have joint billing. Retaining the English names is vital for locals, tourists, emergency responders.
I strongly object to this name change… it makes no sense to anyone. However, I have no problem if both names were used, and people can then select the one they prefer.
Respectfully yours,
Peter A. Robson
President
Pender Harbour and Area Residents Association
604 788 6977/board@phara.ca
---
October/23/2022
PROPOSED CHANGES, GEOGRAPHICAL PLACE NAMES
The BC Geographical Names Office has received proposals from the shíshálh Nation to change or adopt names for ten geographical features, including Pender Harbour, Earls Cove, and elsewhere on the Sunshine Coast.
The letter included the following explanation: "In accordance with the BC Geographical Naming Policy and Procedures, before any naming decisions are made, it is important to ascertain a) if there are other known traditional names for this feature, and b) that the proposed name reflects the heritage values in the area. Therefore, a vital part of the geographical naming process is to request comments from governments, communities, and relevant organizations potentially affected by a feature's name."
As such, PHARA has been asked to compile comments from members of the community and forward them to the BC Geographical Names Office. For those wishing to provide feedback, whether for or against the proposed name changes, please email board@phara.ca before December 18, 2022. For further information about BC Geographical Names Policy and Procedure, visit their website by clicking here. File: 10280-60 (92F/09, 92F/16).
In brief, one of the policies states: "First priority shall be given to names with long-standing local usage by the general public. Unless there are good reasons to the contrary, this policy should prevail."
It should be noted that with the proposed name change for Pender Harbour, a water body, Pender Harbour navigational chart names would change, and various other reference documents that refer to Pender Harbour.
With regard to the proposed name change for Earls Cove, it is specific to the actual cove, not the community, so addresses would not be impacted.
CHANGE THE NAME OF PENDER HARBOUR TO KALPILIN FOR THE HARBOUR ALONG THE NW SIDE OF SECHELT PENINSULA, BETWEEN SECHELT AND POWELL RIVER (CITY).
• kalpilin is the shashishalhem name for the location of present-day Pender Harbour. For the shíshálh, the place name kalpilin has been associated with the use of the region to shelter from the wind and rough sea. Therefore, the shíshálh associate the name kalpilin with its use as a sheltered area. The direct translation of kalpilin means "coming around/detouring in a certain direction." In context, this direct translation refers to the shíshálh use of the kalpilin (Pender Harbour) area. The direct translation further explains how the shíshálh would detour or come to this area to live and seek shelter from the wind and rough seas (advice from shíshálh Nation Stewardship and Territorial Land Management Division, 2022).
• The shíshálh comprises four subgroups, each subgroup associated with geographical areas in the shíshálh swiya (land). The sius subgroup was centred around kalpilin (Pender Harbour), with its main village at sew?amin (Garden Bay). During the winter season, all four shíshálh subgroups would come to live together throughout kalpilin, with its major winter village at sew?amin (Garden Bay) (advice from shíshálh Nation Stewardship and Territorial Land Management Division, 2022).
CHANGE THE NAME OF EARLS COVE TO SKELH FOR THE COVE AT THE N END OF SECHELT PENINSULA, FACING THE N END OF AGAMEMNON CHANNEL.
• skelh is the shashishalhem name for the location of present-day Earls Cove. This name is likely an ancient name and the meaning has been lost over time (advice from shíshálh Nation Stewardship and Territorial Land Management Division, 2022).
CHANGE THE NAME OF HUNAECHIN CREEK TO XENICHEN STULU FOR THE CREEK THAT FLOWS SW INTO SKWAWKA RIVER.
• xenichen stulu is the shashishalhem name for Hunaechin Creek (advice from shíshálh Nation Stewardship and Territorial Land Management Division, 2022).
• xenichen stulu refers to the creek that flows into the bay at the xenichen village site. The name roughly means "go to the end until you can't go any further," referring to the northern extent of the swiya (advice from shíshálh Nation Stewardship and Territorial Land Management Division, 2022).
• xenichen, a major village site at the mouth of xenichen stulu, is at the head of lekw'emin (Jervis Inlet) and is one of the locations where the spelemulh (first peoples/ancestors) first came from the sky by the Creator (advice from shíshálh Nation Stewardship and Territorial Land Management Division, 2022).
• The current English name, Hunaechin Creek, uses an anglicized version of the shashishalhem name (advice from shíshálh Nation Stewardship and Territorial Land Management Division, 2022).
ADOPT THE NAME XENICHEN FOR THE SITE LOCATED AT THE JUNCTION OF HUNAECHIN CREEK (XENICHEN STULU) AND SKWAWKA RIVER.
• xenichen was a major village site at head of lekw'emin (Jervis Inlet) and one of the locations where the spelemulh (first peoples/ancestors) first came from the sky by the Creator. The name roughly means "go to the end until you can't go any further" referring to the northern extent of the swiya (advice from shíshálh Nation Stewardship and Territorial Land Management Division, 2022).
CHANGE THE NAME OF DESERTED RIVER TO TS'UNAY STULU FOR THE RIVER THAT FLOWS SW INTO DESERTED BAY (TS'UNAY), NE END OF PRINCESS ROYAL REACH, JERVIS INLET (LEKWEMIN).
• ts'unay stulu is the shashishalhem name for what is currently called Deserted River (advice from shíshálh Nation Stewardship and Territorial Land Management Division, 2022).
• Current name of Deserted is based on settler perception and faulty concept of terra nullius (empty land) (advice from shíshálh Nation Stewardship and Territorial Land Management Division, 2022).
CHANGE THE NAME OF DESERTED BAY TO TS'UNAY FOR THE BAY AT THE NE END OF PRINCESS ROYAL REACH, JERVIS INLET (LEKW'EMIN).
• ts'unay is the shashishalhem name for what is currently called Deserted Bay and shares the name ts'unay with the major village site that was located on the bay (advice from shíshálh Nation Stewardship and Territorial Land Management Division, 2022).
• Current name of Deserted is based on settler perception and faulty concept of terra nullius (empty land). Nearby shíshálh Nations Lands is misspelled "Tsooahdie," possibly an early anglicization of ts'unay (advice from shíshálh Nation Stewardship and Territorial Land Management Division, 2022).
ADOPT THE NAME TS'UNAY FOR THE SITE LOCATED AT THE MOUTH OF DESERTED RIVER (TS'UNAY STULU), ON THE SHORE OF DESERTED BAY (TS'UNAY).
• ts'unay was the major village site that was located at the mouth of the "ts'unay stulu" (Deserted River) (advice from shíshálh Nation Stewardship and Territorial Land Management Division, 2022).
CHANGE THE NAME OF THE NE PART OF JERVIS INLET TO lEKW'EMIN, MADE UP OF PRINCE OF WHALES REACH, PRINCESS ROYAL REACH, AND QUEENS REACH.
• lekw'emin is the shashishalhem name for Jervis Inlet. The name lekw'emin means "inlet" and can be used to denote any inlet in general terms. However, Jervis Inlet was known as lekw'emin because it was the largest inlet in shíshálh Nation swiya (advice from shíshálh Nation Stewardship and Territorial Land Management Division, 2022).
ADOPT THE NAME OF MALA/HIND-SMITH LAKE FOR THE LAKE E OF CHAPMAN LAKE, NW OF PANTHER PEAK, WITHIN TETRAHEDRON PARK.
• The name mala is the shíshálh ancestral name for Albert Louie. The name mala is the shíshálh name of Albert Louie's maternal grandfather. Albert was honoured to be given this name to carry on the tradition of connecting to his ancestors and to his land of origin.
As is tradition, this name has continued to be passed down to Albert's descendants and will continue to link the families to their ancestry, history, and lands (advice from shíshálh Nation Stewardship and Territorial Land Management Division, 2022).
• Albert Louie was born November 27, 1935. mala was a respected shíshálh elder who lived his entire life in the shíshálh swiya, with his primary residence in the village of ch'atlich (Sechelt). mala lived his early life exploring the shíshálh swiya in his family dugout canoe, living in his family homesteads and living off the natural resources provided by land and ocean. mala was a great knowledge keeper of shíshálh language and history and worked tirelessly throughout his life to preserve shíshálh language and culture. mala was a great provider to his family and community due to his abilities and actions as a hunter, fisherman, logger, and family man. mala was a man who fished all shíshálh waters and hunted and gathered resources from the ocean all the way to the mountaintops and boundaries of shíshálh swiya. mala passed away in 2012 (advice from shíshálh Nation Stewardship and Territorial Land Management Division, 2022).
• John Hind-Smith came to live on the Sunshine Coast in 1960. He is described as a "spiritual elder for the conservation community of the Sunshine Coast" and was an integral part of the Tetrahedron Alliance, which contributed to the creation of the Tetrahedron Provincial Park. He is described as a life-long lover and protector of nature and was a voice for calm and respect when facing opposition to conservation efforts. In 1994, the SCRD honorarily renamed No Name Lake in the sub-alpine region of Tetrahedron Park to John Hind-Smith Lake. However, this designation was not officially gazetted at the time. John Hind-Smith passed away in 2005, and in 2019 his friends and colleagues in the conservation community proposed to the shíshálh Nation that No Name Lake be officially renamed to recognize both John Hind-Smith and a shíshálh name (see "mala" above) (advice from shíshálh Nation Stewardship and Territorial Land Management Division, 2022).
CHANGE THE NAME OF MOUNT VICTORIA TO K'ELS FOR THE MOUNTAIN AT THE HEAD OF QUEENS REACH, JERVIS INLET (LEKW'EMIN), NE OF POWELL RIVER (CITY).
• k'els is the shashishalhem name for what is currently called Mount Victoria. It means "anchor" and is associated with a legend site (advice from the shíshálh Nation Stewardship and Territorial Land Management Division, 2022).
• Gilbert Joe's (shíshálh elder) site description: "One is that up at Jervis Inlet there's a mountain called Anchor Mountain. And it's called Anchor Mountain because our forefathers called it k'els in our dialect which means anchor. And on top of that mountain—it's over 6,000 feet—the snow line is about between 4,000 and 5,000 feet, and where the snowline ends, there's no shrubbery and evergreens that grows above that line, nothing at all because there's snow on top of those peaks just about ten months out of the year or maybe even more. But on top of Anchor Mountain there's this Douglas fir tree roots and branches and all laying up there above the snow line. How did it get up there? Legends from our forefathers says that it got up there from the great big flood a long time ago" (advice from the shíshálh Nation Stewardship and Territorial Land Management Division, 2022).
---
June/20/2022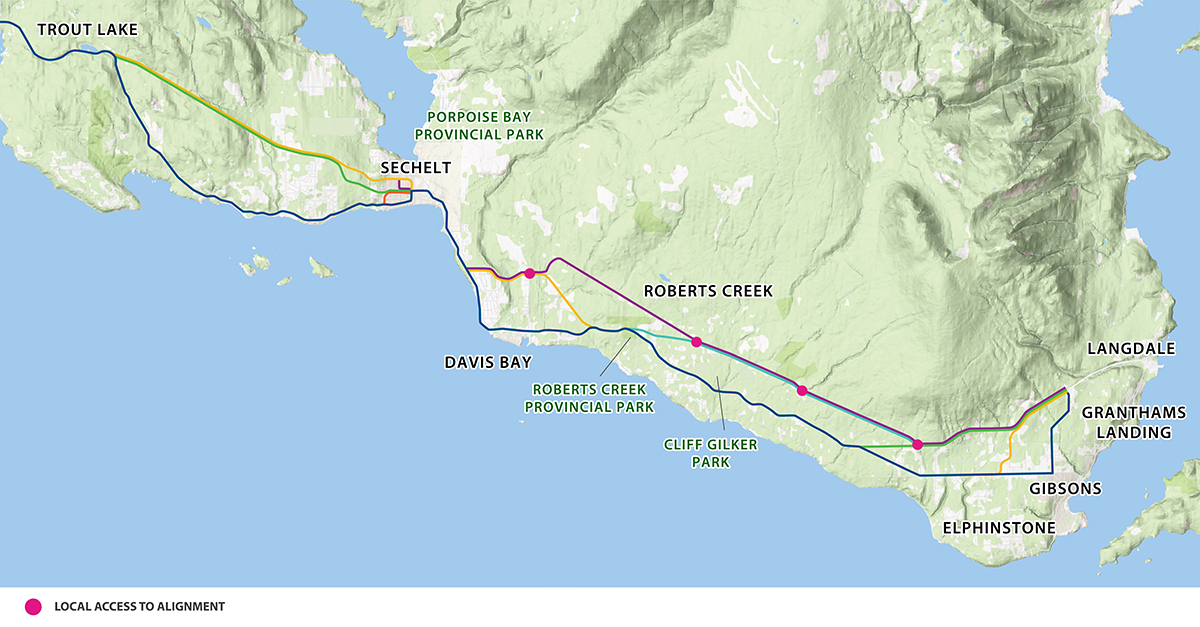 Highway 101 alternate route proposal
Opportunity for Feedback
The SCRD is seeking public engagement on this proposal to upgrade Highway 101.
Here's a chance to express your views !
Click here for Zoom links for two sessions :
Thursday, June 23, 6:00 – 7:00 pm
or
Wednesday, June 29, 6:00 – 7:00 pm
The link will also take you to an online form if you wish to submit written coments.
---
April/25/2022
BUS SERVICE FOR PENDER HARBOUR AND EGMONT!
A message to PHARA members and all Pender Harbour residents:
The SCRD has approved a future transit plan for the Sunshine Coast that includes potential expansion of the public transit system to include Pender Harbour and Egmont. This was adopted as a planning tool and is a positive first step toward having bus service in our area. Click here for the report.
Note that the SCRD accepted this document as a "strategic planning direction;" at this time we do not know when transit to Pender Harbour will be implemented. For now, this is for information only.
Please support our community: join or renew your PHARA membership by going to phara.ca and navigating to the Join Us page.
---
April/25/2022
IS YOUR HOME FIRESMART?
A message to PHARA members and all Pender Harbour residents:
As the dry season approaches, we become more aware of the possibilities of wildfire. It is up to all of us to do what we can to reduce the risk of loss in the event of fire in our area.
The SCRD recently instituted a region-wide FireSmart program. Their web page on the subject has links to a number of useful resources. A FireSmart Assessment Guide contains a useful Homeowner's Manual with a clear outline of the hazards to look for.
Through this program, you can obtain a free assessment by a FireSmart representative who will visit your property and make fire safety recommendations. You can request an assessment here.
PHARA encourages everyone to take a good look around their house for fire hazards and to request a FireSmart assessment.
Please support our community: join or renew your PHARA membership by going to phara.ca and navigating to the Join Us page.
---
January/26/2022
PHARA's Annual General Meeting for 2020
A grand total of 21 PHARA members attended our Annual General Meeting on December 29 via Zoom. We are pleased to announce that Ron Badley has joined the PHARA board, though three members stepped down from the board. Your current board consists of president Peter Robson, secretary Sage Robson, treasurer John Verver, membership coordinator Ann Harmer and board members at large: Lucy Archbold, Bill Charlton, Eliza Kinley, Sean McAllister and Ron Badley. We currently have 353 paid up members.
Scroll down for a recap of our activities from the past year.
---
Dock Management Plan
On July 13, 2020, PHARA reps, Bill Charlton and Sean McAllister met virtually with representatives of the shíshálh Nation, the Provincial Government and the SCRD. A follow up letter was sent to the shíshálh Nation and the government on January 30, 2021, asking for a further meeting to be arranged so that we could have further discussions on the problematic aspects of the DMP.
A letter dated March 3, 2021, was received from the Nation and the government indicating that some amendments were being implemented as a result of our submissions. Those included minor changes to terminology, clarity confirming Qualified Professionals, and confirming that encapsulated foam was acceptable floatation. All other suggested amendments were summarily dismissed. The government was going to further study the "dock width" issue with their engineers.
By letter dated Sept 27, 2021, the government and the Nation provided an amended DMP incorporating the above. They also confirmed that they have commissioned a third party PEng to review our report on dock widths, which would also include a review of our QP reports submitted back in January 2021.
A similar letter was sent to the SCRD by the Nation and Province on the same date confirming the above and advising of a new website for the Shared Decision Making process. They also claim that 161 replacement tenures had been issued with another 97 being offered through a collaborative process. We are unable to confirm this.
On Nov 1, 2021 the SCRD responded to the letter asking for effective consultation, including a seat for the SCRD at the various Foundation Agreement tables and asking for further consultation with PHARA regarding concerns related to float buoyancy, stability and light transmission justification for the zones contained in the DMP. We will continue to press for further consultation regarding the foregoing and are preparing another response. — Bill Charlton and Sean McAllister, DMP Working Group co-chairs.
---
Derelict Boats
Our Derelict Boat committee is headed by Ian and Diane Hopkinson with fellow committee members Eliza Kinley and Peter Robson. In the last year five vessels have been removed from our harbour. This has been achieved in a variety of ways. In the spring, we toured the harbour with the very kind assistance of Eliza Kinley. Boats that we have identified as abandoned or derelict are not only eyesores, but they are also a menace to navigation and in some cases, clear sources of pollution.
Most of these vessels are anchored out and are believed to be uninsured since virtually all marinas require at least liability insurance for vessels to be moored in their facilities. Quite often, the ground tackles that are used by these craft are inadequate, which results in vessels dragging anchor and colliding with others.
To remove these vessels usually costs a considerable sum of money, money that PHARA does not have. It has been necessary therefore to seek other sources of funding. These are the Canadian Coast Guard, who are really only interested if there is a significant fuel spill (a rainbow sheen on the water is not sufficient to merit their attention). Another source is Transport Canada and we have met with some success here.
There is an organization called the Dead Boat Society who seems to have the ear of Transport Canada. Boats, which we have identified as being abandoned, or derelict may be flagged by Transport Canada by placing a notice aboard advising that the boat will be removed and disposed of unless the owner or owners contact Transport Canada by phone during a reasonable period.
In addition, boats have been removed by volunteer labour.
These are the boats that have been removed so far:
1 and 2: The Golden 1 and the black hull cabin cruiser that belonged to Rick Cooke
The Chuckanut that sank in Gerrans Bay was refloated and then broken up for salvage. This was done by volunteer labour, which included Peter Robson, Bob and Danny Fielding, Larry Page, and the barge Tag Angel, Bruno Pepin (diver) and Laughlin and Kerry Rand of KER Enterprises. The Pender Ocean Discovery Centre generously allowed us to use the launch ramp to haul the Chuckanut ashore where it was broken up and then landfilled in Sechelt and the SCRD generously waived the tipping fee.
A Cruise-A Home houseboat from Gerrans Bay was towed to Mackenzie Marina and broken up
A powerboat that had been abandoned at a private dock for more than a decade was also removed and broken up by members of the community.
We understand that some of the boats that had been recently tagged by Transport Canada have been removed from their moorings and placed alongside docks awaiting disposal. — Ian Hopkinson
---
The Official Community Plan and Bylaw 337
As you may know, the SCRD approved our revised Official Community Plan in October of 2018, almost three years ago. Peter Robson was chair of that advisory group and we spent three years re-crafting it. To fully implement the recommendations in the OCP, the SCRD has to revise our current Bylaw 337, which covers Area A. (Bylaw 310 covers the rest of the SCRD area). SCRD's bylaws cover specific, drilled-down Zoning regulations for something like 40 land use designations. In the OCP, we reduced that number to 14. Zoning Bylaws cover things like acceptable uses such as the number of allowable dwellings, siting of structures, floor areas of buildings, width of dwellings, parcel coverage and so on. Those old zoning regulations were written in 1990, 30 years ago, However, in the three years since the OCP was accepted by the SCRD, absolutely nothing has happened to update Bylaw 337. Instead, our OCP is gathering dust on the shelves at the SCRD with the excuses being staffing shortages and other priorities. Without updating our bylaws those 1990 Bylaws stand and obviously things have changed a whole lot since then, including issues such controversial issues as campsites and trailer parks. PHARA continues to put pressure on the SCRD to make worthwhile the hard work of the OCP committee.
---
Roadside and Backwoods Trash Bashes
On Saturday Oct 16, despite sometimes torrential rain, 31 volunteers were on hand for this year's Roadside Cleanup and Backwoods Trash Bash. In the end 1,465 kg of garbage, 670 kg of scrap metal and 180 refundable cans and bottles were collected. The Backwoods Trash included several abandoned trailers loaded with garbage including a mattress, tires and propane tanks. Roadside cleanup took place along the back route from the Health Centre to Madeira Park Road and with limited areas along Highway 101 (because of unsafe weather conditions). It took nine pickup trucks to transport all this to the Pender Harbour Transfer Station.
Afterwards, the Pender Harbour Rotary Club, one of our generous sponsors, provided volunteers with pizza from Harbour Pizza. The event was organized by Pender Harbour Hikers in conjunction with the Pender Harbour and Area Residents Association (PHARA.ca). Other sponsors included the Sunshine Coast Credit Union, IGA, RONA and the Sunshine Coast Regional District. A very BIG thank you to our sponsors and volunteers.
The Backwoods Trash Bash and the Roadside Cleanup events are consistent with one of the objectives of the PHARA: "Keeping our communities clean" and "To help volunteers initiate and complete community improvement projects."
---
Parks and Trails
We've also, again on behalf of the community, presented four new projects to the SCRD to improve local signage, park trails expansion and better roadside walking paths.
We now have the opportunity to increase our area's outdoor recreation opportunities with four proposed projects, not only for those of us who live here, but also as additional draws for visitors and this will help sustain local businesses to which tourism is vital, especially in the off season. This goal is clearly stated in our Official Community Plan (2018). These projects have the full support of the Chamber of Commerce and the Rotary Club of Pender Harbour. Scroll down to read more about these ambitious projects.
---
Our Community Gardens
We are working to obtain funding to rebuild and maintain the gardens around the community hall and a few others scattered around Madeira Park. These have fallen into disrepair over the last few years. Don Fraser has been selflessly maintaining those gardens for many years, but it is time for the community to take on this task. Those gardens are a real visual asset to our downtown. Don has done far more than his part over the years and now someone needs to take the lead. We've received ongoing support for this project from all the community groups in our area. We hope to replace some of the plants and such with a Grant in Aid from the SCRD for capital costs, but we will need ongoing funding from an endowment, from government or through a large donation to pay for the labour to upkeep the gardens on a continuing basis. Let us know if you would like to donate to this community improvement project. Email board@phara.ca.
---
Daylighting Lily Lake Creek
We are also looking at supporting a major project, initiated once again by Don Fraser, who has done some significant planning and mapping work over the years. The idea is to reroute the creek coming out of Lily Lake and run it behind the liquor store and IGA and under Lagoon Road to the wetland by the church Currently that runs underground beneath the school field and when that was built it was only covered by boards and dirt and once that collapses, it will be a big mess. We don't have all the details yet, but again, this needs a project lead as Don can't do it by himself, but he has laid the groundwork.
---
An Architectural Plan for our Community
Another project on the horizon is to come up with an overall architectural plan to beautify downtown Madeira. Considerable funding is available from a private source if we can present a viable 10 year plan to add some real character to the mish mash of buildings that currently make up Madeira Park and make them more cohesive. If anyone knows of a retired city planner or architectural school that may be able to spearhead this initiative, please let us know.
---
Incorporation Revisited
Another idea is to initiate a new Provincial Government funded Incorporation study to look at the numbers relating to part of Area A becoming an incorporated municipality. If this proceeds PHARA would remain neutral but facilitate the study and present it to the community for consideration.
---
Food Security
Our area has a number of parcels that are part of the Agricultural Land Reserve. However, very little if any food is being grown on those properties. We would like to develop a plan to better encourage and and support those and other properties with the potential for growing a significant volume of food close to home.
---
Moving Forward
Our biggest challenge as a community organization is that most of our board members sit on several other boards and have extended themselves to the point of not being able to take on any more projects. It seems like it the same group of volunteers have been bearing the lion's share of community projects for many, many years and as they age out or become burned out, that group is getting smaller and smaller. This community needs some new blood, retirees or younger people who can be hands on and allow us to do the valuable work of making our community the best it can be. Please consider joining us. Bring your skills to the table and become an active member of your community association. We know there is a big talent pool in this community and to carry on, we need help and you don't have to be on the Board to help. We'd be delighted to carve off any specific jobs to interested members at large. Please give it some thought and if you would like to consider being a member of our Board of Directors, please put your hand up when we get to nominations. We're looking specifically for active, can-do, hands-on members. With your help, we can do a lot more!
---
Four Exciting New Outdoor Recreation Opportunities
Area A now has the opportunity to increase its popular outdoor recreation facilities with four proposed projects to enhance all-season hiking and wilderness adventure, not only for those of us who live here, but also as additional draws for visitors and this will help sustain local businesses to which tourism is vital, especially in the off season.
The goal of increasing recreation opportunities in Area A is clearly stated in the Egmont/Pender Harbour Official Community Plan (2018).
"To enhance public access and use of water resources in a manner that minimizes detrimental effects on the environment and adjacent land uses." and "To recognize the need for park opportunities at neighbourhood, community, regional and provincial levels to fulfill the recreational needs of residents and visitors"
"To support community groups that can provide stewardship and oversight for beach accesses and trails."
Did you know?
There are none, or inadequate, wayfinding signage to our most popular attractions which include Francis Point Provincial Park, the Mount Daniel hiking trail, Baker Beach, Martin Cove and Garden Bay Marine Provincial Park. Without adequate signage, visitors cannot access these beautiful parts of our community. We need to improve wayfinding signage.
The SCRD's Katherine Lake Regional Park surrounds the only lake on the Sunshine Coast that is wholly surrounded by public parkland? Therefore, it is the only lake where it is possible to have a walking trail around the entire lake—again, the only such trail on the Coast. Trails currently exist around about 90 percent of the lake, and these could be improved and the trail network completed.
Dan Bosch Park on Ruby Lake is extremely oversubscribed, with visitors forced to park along the dangerous roadway of Highway 101, and partially block traffic in this 80 km zone. It is only a matter of time before someone is killed walking along the highway. The current beach areas are also extremely overcrowded, yet there is ample room for expanding those facilities.
The stretch of Garden Bay Road between the Pumphouse and John Henry's/Royal Vancouver Yacht Club is dangerously narrow with no proper shoulders making it dangerous for walkers and cyclists to negotiate this portion of the road. Again, this is a hazardous situation that needs to be remedied.
These four projects described in brief above are fully supported by the Pender Harbour and Area Residents Association (PHARA), the Pender Harbour Rotary Club and the Pender Harbour Chamber of Commerce.
These projects are eligible for either Gas Tax funding and/or other funding agencies. Local community volunteers would also assist in the development of these projects.
To this end, Leonard Lee, the SCRD's Area A director proposed the following motion, which was passed unanimously, at the June SCRD Board meeting: that "Staff work with PHARA to establish project authorization requirements, planning, development and maintenance costs and time estimates in order that the projects can be considered as part of the 2022 annual budget process and that PHARA continue gathering community input on the proposals."
Click below for more information on these projects. Please show your support for these community initiatives.
Wayfinding and Beach Access Signage
Katherine Lake Regional Park Trail Improvements
Increased Parking and expansion of Dan Bosch Regional Park
Active Transportation Corridor (Garden Bay Road)
---
What Happened? Closing the Pender Harbour Landfill and the proposed Enhanced Drop-Off/Resource Recovery Facility
In September 2008, Sperling Hansen Associates was retained by the SCRD to assess Waste Management Options for the Pender Harbour Landfill. The Pender Harbour Landfill was slated to reach capacity in 2010 and the SCRD wished to decide on the best option to hand the area's waste going forward.
Three options were considered: 1) Expanding the existing landfill to the west, 2) Expanding the landfill to the north, 3) closing the landfill and developing a transfer station to haul waste to the Sechelt Landfill.
The document is an interesting read. Now, 13 years later, do you think the SCRD made the right choice?
SCRD's Solid Waste Management Plan – 2011
As part of the 2011 Solid Waste Management Plan, consideration was given for Enhanced Drop-Off/Resource Recovery Facilities for Pender Harbour, Gibsons and Sechelt. Ten years later, this item has not been actioned and should be considered again by the SCRD during development of their upcoming revision of the Solid Waste Management Plan (SWMP), to be revised and updated in 2021.
Pages 33 and 34 of the SWMP—Item 5.3.1 "Enhanced Drop-Off and Resource Recovery Facilities (One Stop Shop)" calls for developing enhanced recycling and resource recovery facilities, first in Pender Harbour, then in Sechelt and Gibsons. In part, it reads: "The SCRD will provide enhanced drop-off services for recyclables (e.g. resource recovery facilities) in the three distinct service areas. A request for proposals (RFP) process will be used to solicit competitive bids on this service from the private and not-for-profit sectors. This is a high priority initiative and should proceed during the initial implementation phase." This would be a much more comprehensive facility than GRIPS.
The report continues: "A facility will be developed in Pender Harbour at a location that is suitable to the community. Conceptual plans call for a "One Stop Shop" facility that will be a pilot for future facilities in the SCRD. Resource recovery capabilities of this facility are calling for expanded Extended Producer Responsibility (EPR) program drop off areas, food and yard waste collection including transfer for processing, textile collection including transfer for processing, Styrofoam collection and processing, recycling of mattresses and bulky items, enhanced materials salvage and reuse, and storage/processing areas for local artisans and other markets for recovered materials. The process for developing the resource recovery facilities will follow the recommendations from the Pender Harbour Resource Recovery Facility – Conceptual Plan Workshop (July 12-14, 2010)" (see below for link).
SWMP Final Report Proofed 10-31-11 w AppB WEB
PHRRF WorkshopResults_FinalwFeedback
---
2021 Town Hall Meeting
PHARA held a Zoom Town Hall Meeting on January 31. Our Zoom account only allowed 100 participants and we apologize for those who were unable to log in. To this end, we've posted a summary of the meeting as a text document (Town Hall Summary) as well as the full audio of the meeting below.
The full audio version is 2 hrs, 14 min. in length
To access speakers, slide the timeline to the number showing below.
Derelict Boats (Peter Robson) 14:40
Beach Access (Peter Robson) 19:00
Dock Management Plan (Sean McAllister) 23:30
Lifetime Achievement Award to Rose-Marie Everett (Jon Paine) 33:04
Community school (Francine Clohosey 39:05
Rotary Club (Bill Charlton) 55:27
Health Care Center (Susann Richter) 1:13:46
SCRD Area A Director report by Leonard Lee 1:41:05
POWERPOINT PRESENTATIONS
Rotary updates (Bill Charlton), Click here for the Rotary Briefing
Pender Harbour Community School Society (Francine Clohosey, Manager). Click here for her Town Hall presentation
Derelict Chuckanut has been moved to its new home, container bound for the dump.
In memory of Rose Marie Everett
Pandemic Trails
---
Help Build a Ride Hailing Service in Pender
Coastal Rides (coastalrides.ca) is a Sunshine Coast based ride-hailing service. Users can hail a ride using a smartphone app. Drivers are needed in the Pender Harbour area. Drivers need to have a Class 4 license, undergo driving and criminal record checks, and have a vehicle that is 10 years old or newer. This is a great opportunity for drivers to work on their own schedule and help get people where they need to go. Potential drivers can learn more and sign up here: https://www.coastalrides.ca/drive-with-us. The company is also working with another local company called Care For A Lift to get a wheelchair accessible van on the system.
---
Local Heroes: RCMSAR 61

The sea is a big part of our lives on the Sunshine Coast, and one of the main reasons for living or spending time in the area. Many of us get out on the water whenever we can to fish, sail, kayak, paddleboard, or simply explore one of the most beautiful and varied marine environments in the world.
Yet despite its beauty, the waters that surround our coastline can be very unforgiving. Weather conditions change rapidly, turning a gentle sea into crashing waves, driven by fierce winds. Strong currents drag us and our vessels in ways we never expected. Rocks lurk beneath us. Engines break down. Even the most careful and prepared among us sometimes make mistakes, putting our lives and the lives of those who set off with us on the water in jeopardy.
When things go wrong, the volunteers of the Royal Canadian Marine Search & Rescue (RCMSAR) Station 61, based in Pender Harbour, are there to respond. The dedicated team aboard their specialized vessel, the Iona C, covers a vast portion of the Malaspina Strait, as well as Jervis Inlet, Princess Louisa Inlet, and Hotham Sound. Throughout the year, no matter the conditions, they set out to help those who are in distress. They also provide support and act as safety vessels and first-aid assistance to community events year-round.
Donations are always appreciated: you can help at www.rcmsar61.ca/donate
To learn more about Station 61, checkout their new website www.rcmsar61.ca where they offer resources for boaters, including webcams and weather around Pender Harbour.
---
Residents Association Responds to Proposed Madeira Park Name Change
"Due to public opposition, the proposed name change was dropped"
Your community association is well aware of the controversy surrounding the recent proposals to change the highway signs and rename Madeira Park. In that light, PHARA along with the Chamber of Commerce prepared two letters: one strongly opposing the proposed name change and the second requesting a hold be put on dual language sign implementation. We are confident that all affected parties will be able to come together in the very near future to ensure that our voices are heard. The two letters are now in the hands of the SCRD, the shíshálh Nation, the Area A Advisory Planning Commission and provincial government officials.
In the spirit of reconciliation, we look forward to undertaking a process of consultation with all parties to discuss dual language signs and the more important issue of the proposed name change to Madeira Park.
The proposed name change letter can be found here
The dual language sign letter can be found here
---
Derelict Boat Success.
After years of effort by PHARA Board members and with the support of the Federal Government, two of the most notorious Pender Harbour derelicts, the Lulu Island and the Kwatna, have been removed for good—but it wasn't easy or quick.
After more than two years of effort by PHARA, the removal of the two vessels was approved by Transport Canada's Abandoned Boats Program and contracted to Gibsons-based Freedom Diving Systems Ltd. They teamed up with Sunshine-Coast-based Hiballer Marine for the use of a tug and barge, excavators from Indian Isle Construction based out of Pender Harbour, disposal bins from Coast Bin Rentals as well as organizing all the necessary spill prevention equipment.
The Kwatna was beached on a rocky shore while the Lulu Island had sunk in about 30 feet of water. The initial plan was to recover the two vessels relatively intact. However, both broke up into hundreds of pieces. The Kwatna was mostly removed using an excavator. The salvors found 16 massive batteries and 460 litres of diesel and oil on the derelict. The sunken Lulu Island broke up into slime-covered pieces that had to be placed by hand by commercial divers into large metal bins on the bottom. The bins were then hauled onto the barge where they were dumped and sorted for metals, wood, hydrocarbons and other materials, most of which had to be disposed of off the coast. The project was slated to take place over three days, but the scope of the work required the barge to be on-site for eight days. In the end, though, Freedom Diving Systems did an excellent job removing all traces of these derelicts.
A huge thanks to Penny Harrison and Eliza Kinley for their ongoing efforts over the years to see this project though to the end.
Unfortunately, there are still a number of other derelict eyesores rotting away in the harbour that need our attention. The association is ready to take action, but we need your support. If you'd like to donate to the cause, please email us at board@phara.ca and we will contact you. For more detailed information on the removal of the derelict vessels, see Derelict Boats under the Projects menu.
---
Progress on revising the DMP
When the Provincial Government and the shíshálh Nation imposed a new set of onerous regulations concerning dock placement and construction in Pender Harbour without consulting the local community, the community was shocked and angered. In some areas, docks would have to be removed for environmental reasons, though there was no supporting science. Other areas would require new docks to be shared. New dock construction requirements were not based on real science and would actually cause danger. Unproven technologies were given as fact.
This is the major issue of concern for Pender Harbour and will have ramifications throughout BC. For more information, visit Pender Harbour Dock Management Plan
---
Town Hall Meetings
PHARA normally hosts two Town Hall Meetings each year, once in spring and once in the fall. These well-attended public meetings, held at the Community Hall, serve to up date residents and visitors about the work of PHARA and other community groups. They also include an open mike segment where the general public can express their concerns and issues that they'd like to see addressed. As part of the fall meeting, PHARA in conjunction with the Rotary Club of Pender Harbour, hands out the Community Volunteer Awards.
"Due to the Covid 19 pandemic, Town Hall meetings will be held via Zoom until further notice."
---
Community Volunteer Awards
As a community, Pender Harbour runs on the efforts of volunteers. Most of the wonderful things that happen in the community are the result of countless hours of volunteer labour. This annual award is about recognizing the value of volunteers to our community and honoring specific people or organizations, who, as volunteers, have contributed to significant improvements in the quality of our community. We would like to thank the Rotary Club of Pender Harbour for their generous support for and sponsorship of this award. For more information on the awards, past recipients and/or to nominate an outstanding volunteer, visit the Volunteer Awards link above.
---
2022 COMMUNITY VOLUNTEER AWARDS NOMINATIONS OPEN
The Pender Harbour and Area Residents Association and the Rotary Club of Pender Harbour are pleased to announce the opening of nominations for the 2022 Pender Harbour Community Volunteer Awards. Individuals or organizations may be nominated for the awards.
The deadline for nomination is July 31, 2022 and all that is required for a nomination is a letter explaining why the nominee is worthy and a few other details. Nomination form with complete details are available from Volunteer Awards Entry Form. The awards will be presented at the PHARA's Fall Town Hall Meeting.
The award criteria includes:
Exemplifies the spirit of community service
Is a leader and role model
Breaks new ground
Supports and encourages the development of others
Shows vision, initiative and creativity
Makes a difference
Is respected for their contributions
Previous winners include: Don Fraser, Pender Harbour and Egmont Volunteer Fire Departments, Doreen Lee, Bill Gilkes, Barrie Wilbee, Billy Griffith, Muriel Cameron and Brenda Scoular.